Hello everybody,
I would like ta' suggest a small list of improvements I would like ta' see on the serva'. I nearly guarantee that a few of the suggestions were already suggested, but I am a believa' in strength in numba's. Considerin' that a large amount of people have a large sum of money, there needs ta' be more ways ta' blow it off, if ya' know what I mean. If ya' are interested in any of the listed suggestions that I will be listin' below, please contact me and I will attempt ta' find a link fa' it.



Some form of Drugs Mod, in which there is a Drug Deala' job as well.

Possibly a Meth Lab Add On, it is a good way ta' spend time and I've seen the profession bring in many new playa's.

A form of cars which take damage and require gas in orda' ta' run, giving the gas station in the suburbs a purpose.

A Food Mod, makin' anotha' job like a Baka'. The Food Mod doesn't need ta' increase health but it also doesn't need ta' have a hunga' bar as that pushes some people away, it's more for the purpose of role-play.

Possibly a Bartenda' job that sells liquor, then makin' a Baka' and Bartenda' open a restaurant togetha'.

Playable Piano Mod that allow the Pianist ta' buy it then play it as a way of enta'tainment.

Radio that allows usa's ta' purchase a radio while a Radio Host chooses music ta' play.

Disc Jockey that has special speaka's that allows it ta' play music, which can use anotha' Radio Mod.

PlayX, which allows movies ta' be played on the big screen, givin' the cinema a reason, it also makes a Movie Theater Managa' and Guard job.

The Sit Anywhere Script, although this can be greatly abused, it does allow maximum role-play in terms of sittin', the only real abuse that comes from it is the sittin' upon people's heads.


That is a long list of great add on's that could be added ta' tha' serva' ta' add the best playin' experience. I hope a few of these are taken inta' consideration, thank ya' fa' ya' time!
-Vittorio Antonio "Vito" Scaletta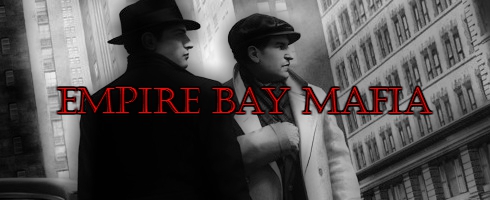 Posts

: 14


Join date

: 2015-11-29


Age

: 92


Location

: Empire Bay



Dear everybody,
I have recently read the otha' suggestions and have realized that I have posted some simila', if not the same suggestions as some of the otha's, please do not provoke me by tryin' ta' say that some of them were already stated in previous suggestions, I am aware of that, thank ya'.
-Vittorio Antonio "Vito" Scaletta



Posts

: 14


Join date

: 2015-11-29


Age

: 92


Location

: Empire Bay



all besides listed below are actually in the process of being checked out...

Cars - not really a good map for it but we're trying to sort something out.
Piano - I'v not seen it but sounds decent, will talk to Kroka about.
PlayX - Heard from players side it takes up alot of resources from server, but that could be just player side with bad internet/computers, buggy gmod, etc, will check it.
Sit Anywhere Scrtipt - this i strongly advice against since i know about exploits which can be abused to dupe certain things.



Posts

: 40


Join date

: 2015-11-26



---
Permissions in this forum:
You
cannot
reply to topics in this forum